HOLZ-HER DYNESTIC 7532: High-end gantry CNC machining for nesting and much more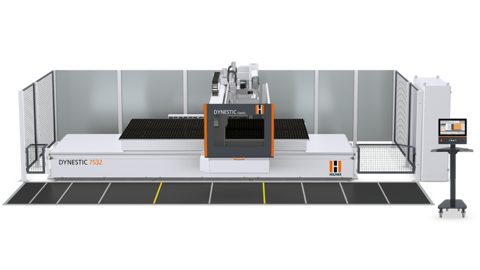 The DYNESTIC 7532 gantry CNC machine expands the limits for nesting technology to new dimensions. Solid machine construction and technology at the highest level ensure high production capacity and precisely produced work.
The powerful nesting machining center has a welded moving stands in gantry design. It has a high rigidity and therefore stands for high stability, especially for maximum loads. The two synchronized servo-drives in X-direction of the machine are outstanding. The covered, ground and hardened v-guides on all axes ensure exceptional precision and a long service life. The DYNESTIC 7532 shows high dynamics and a vector speed of 100 m/min. The high flow nesting table ensures an optimum vacuum distribution. The standard machine is equipped with a selection of high power, precision milling spindles with 8 kW. As option there are precision milling spindles of 12 kW air cooled or 10 kW liquid cooled available
You can choose your DYNESTIC 7532 in the basic version classic or in one of the automatic equipped versions push, automatic or lift. Get your machine perfectly designed for your applications.
Prices
x
Different requirements - different prices
The price of a HOLZHER machine is just as individual as your requirements are. Therefore, let us discuss briefly what is most important to you – you will then receive our preliminary, non-binding quote.
Personal advice
x
Personal advice – for higher productivity and greater efficiency
Together with your HOLZHER expert you will find the ideal machine for your requirements. Simply submit the completed form, and your local HOLZHER expert will be happy to discuss all further details with you.
---
Here is what the HOLZ-HER DYNESTIC series offers
Here is what the HOLZ-HER DYNESTIC 7532 offers
Machining in Y Direction: Up to 2200 mm
Machining in X Direction: Up to 3700 / 4600 mm
Different equipment versions 7532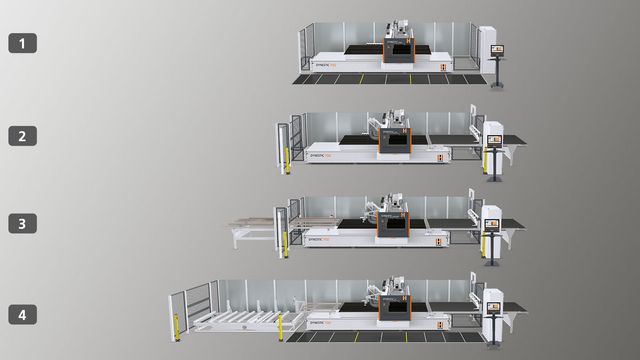 Perfectly cut for your application. You can select the individual classic machine or one of the automatic versions.
Classic Version

(1)
The new classic version for everyday machining of your nesting orders. The front row of stops provided as a standard feature also ensures ideal use of the optional suction cups for machining workpieces vertically and horizontally.
Push Version

(2)
The push version of the DYNESTIC 7532 pushes the finished nest on to the conveyor belt and cleans the machine table for processing the next panel.
Automatic Version

(3)
The automatic version is ideal for high performance - even for production lots of 1 - in combination with the automatic HOLZ-HER STORE-MASTER 5110 panel handling system.
Lift Version

(4)
The DYNESTIC 7532 lift and standard lifting table guarantee highly efficient processing of complete stacks of panels.
"BetterNest" - the optimum nesting software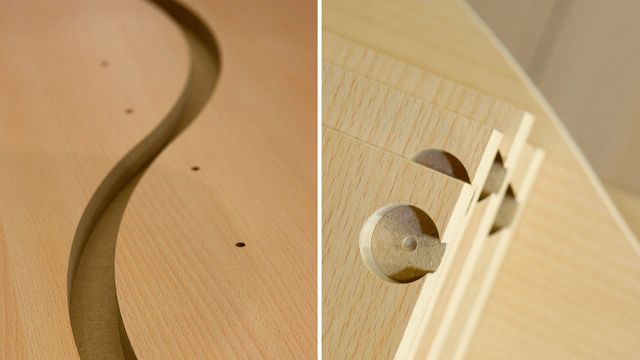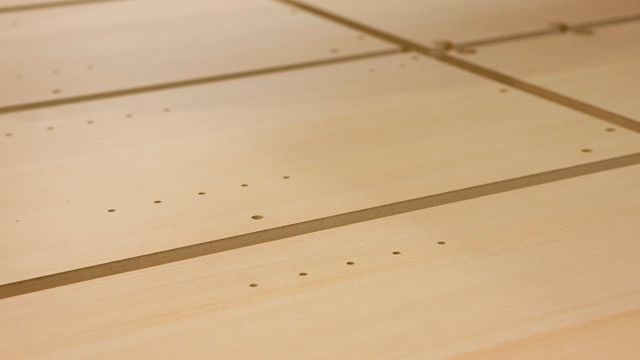 Innovative operator software for optimized cutting and processing
The increasing popularity of nesting technology as a combined cutting and CNC processing solution for large quantities of panels has also increased the requirements placed on the nesting software. For this reason, HOLZ-HER offers the "BetterNest" software as an auxiliary module for the CAMPUS / NC Hops software for the functional nesting machining centers in the DYNESTIC series.
This module is available for pure rectangular nesting or as a free-form version with a completely new type of algorithm offering never-before-achievable nesting results with cutting losses far below that obtained with conventional nesting software. In combination with its simple operation in spite of its enormous versatility, it significantly facilitates programming for users in the office and on the machine while ensuring maximum process reliability.
CabinetControl Pro - Perfect 3D room planning with cabinet generator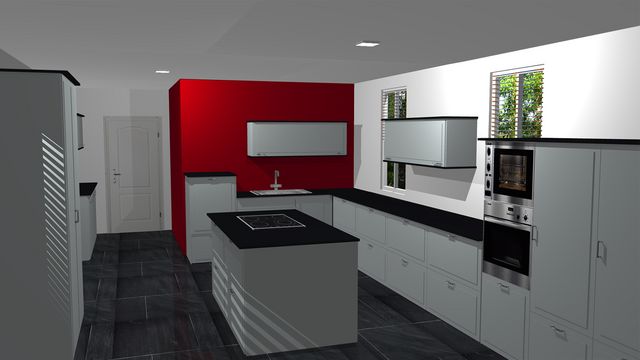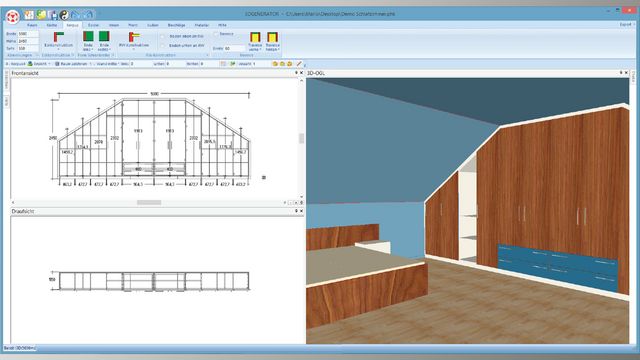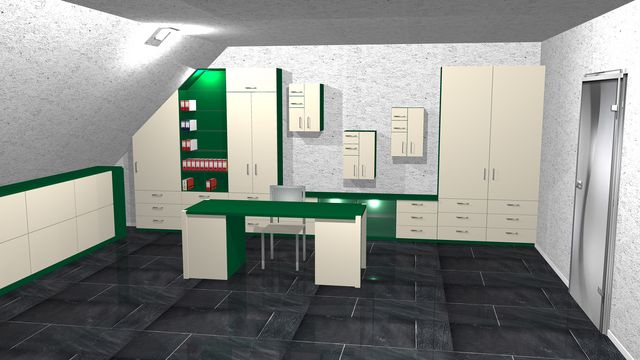 CabinetControl Pro is the extension for professional use in furniture planning and customer presentation. Plan furniture or design entire living situations. Support your customer's imagination for faster decisions. Present the planned furniture photorealistically from any perspective directly to the customer on site.
Furniture
Plan your furniture in different room situations: Wardrobes, pitched roof cupboards, dormer cupboards, kitchens, bathroom furniture, office furniture, wardrobes, sliding door cupboards, living room furniture, sideboards, built-in cupboards, hi-fi and TV furniture, counters, beds, tables, etc.
Simple
As a carpenter, you know how furniture is made. With just a few entries, you can go directly to the finished planning without any CAD knowledge at all. From there it is just a push of a button and all data is ready for production. This way you can quickly and easily get to the planning and work preparation stage.
Planning
Together with your customer you plan and present your furniture quickly and vividly. You implement any spontaneous change request directly and your customer immediately knows exactly what he is getting. This makes his decision easier and you will get your order more quickly.
The cutting data and the CNC programs for your HOLZ-HER panel saw and the HOLZ-HER CNC machine are automatically generated with the planning. The additional option TrunRAY perfects the display of the created renderings.
Highly flexible nesting table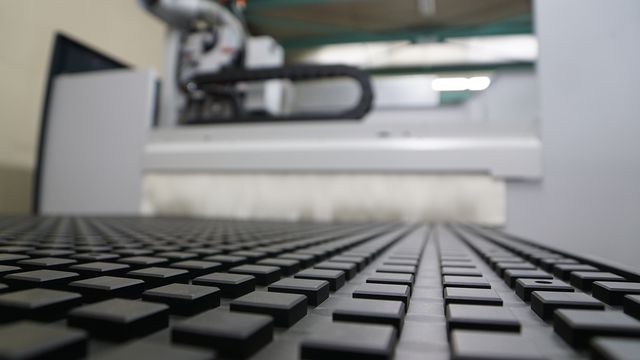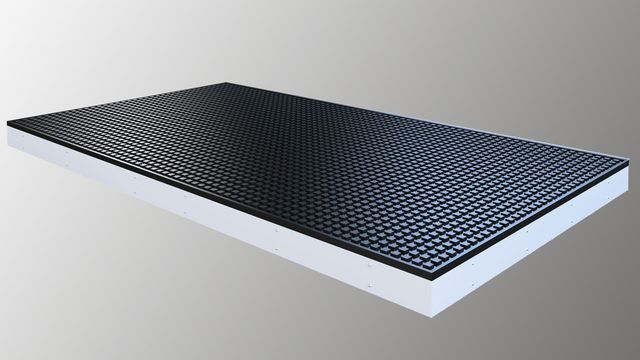 High-flow nesting table
Nesting technology for rational production. With the nesting process, a porous protective panel – usually a thin MDF panel – is held down on the machine table by a vacuum. It provides a large surface for suction and serves to support the workpieces to be processed. Nesting technology allows optimized processing and cutting of panel materials.
For formatting nesting cutting plans on the nesting table.
Workpieces can be processed with manually positioned suction cups.
The HOLZ-HER nesting table has small matrix dimensions – of only 50 mm – to ensure maximum vacuum flux over the entire table surface.
Drilling head with upgrade possibility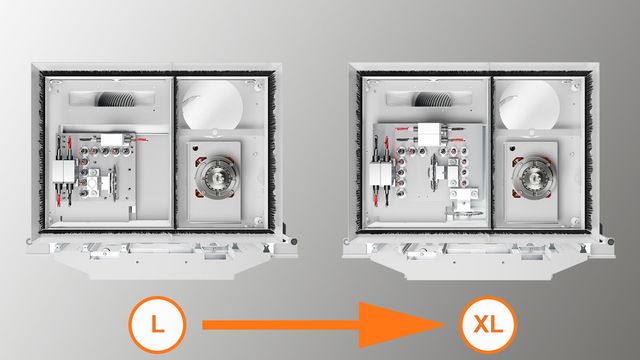 Convincing processing results
Even in the standard equipment the DYNESTIC is provided with a fully equipped drilling head with 15 spindles and grooving saw. The perfect solution for higher drilling performance is the XL drilling head with up to 22 drilling spindles in X direction - optional with a second grooving saw in Y direction.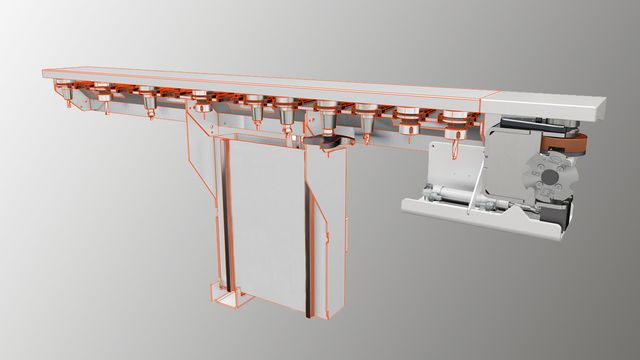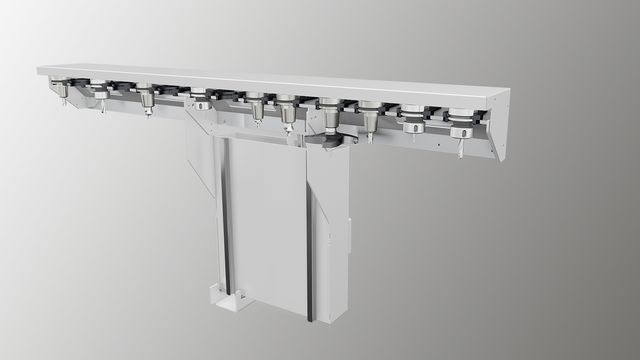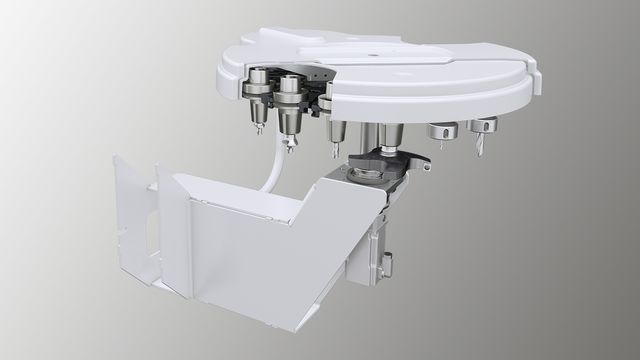 With 14 tool positions the standard linear tool changer is well equipped.
1-position X/Y Pick-Up tool changer for transfer of angle gear to spindle in X/Y direction.
Instead of linear changer an 18-position traveling disk tool changer can be ordered. This is perfect e.g. for 2-field processing in pendulum mode.
TouchTool tool length measurement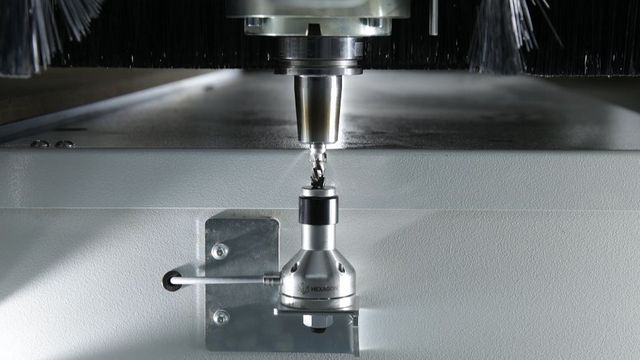 TouchTool is the perfect system for the tool length measurement and updates the appropriate values in the tool database. Additionally Touchtool enables an early realization of tool breakage.
TouchProbe workpiece measurement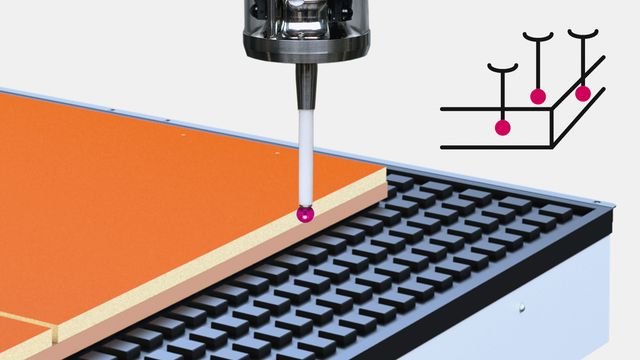 The precision measuring probe TouchProbe measures workpiece length, workpiece depth and material thickness with its ceramic ball caliper and transmits the data to the control of the CNC machine. Thereby measuring errors in the program are automatically updated.
TouchLabel - overview of labels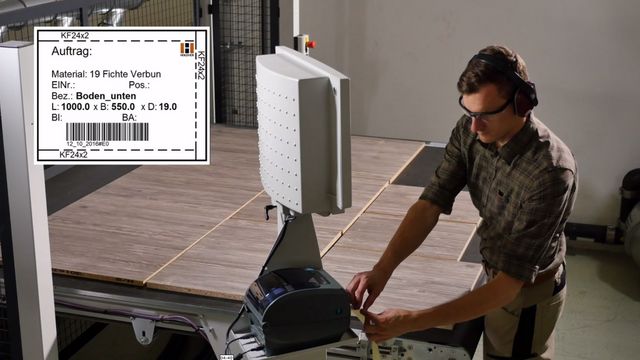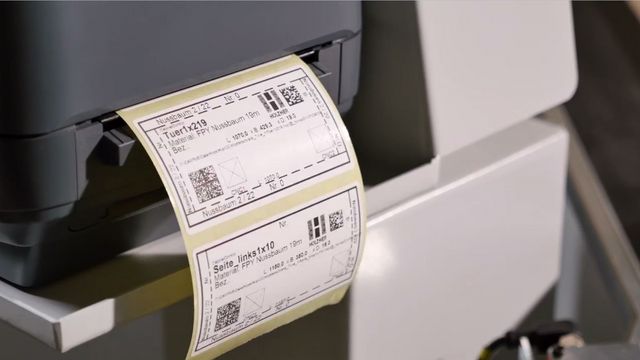 TouchLabel - the perfect solution for labeling
The 21,5" touch screen provides a perfect overview of the nesting results. Simply tap the workpiece and the label printer included in the package prints out a self-adhesive barcode label.
The integrated CAMPUS module label printer allows printout of normal text as well as barcodes (barcode and 2D data matrix). Naturally, your barcode labels can be adapted to your specific requirements with the label template editor.
Direct Label - integrated fully automatic label printer
The industrial printer unit Direct Label is installed in a user-friendly protective housing in the moving column of the nesting machine. Label positions are generated and transferred fully automated via the CAMPUS machine software and the BetterNest nesting software.
The machine picks up the labels one after the other via a 90° rotating stamp on the printer and positions them fully automated on the raw plate before the nesting processing. Both normal text and barcode printouts (barcode and 2D data matrix) are possible. A label template editor for linking to label variations is integrated as well.
Power Label for more labelling throughput
Power Label for more labelling throughput The HOLZ-HER Power Label System is therefore recommended for high panel throughputs.
The Power Label automatically applies the right labels to the right position on the panel - even before further processing in the Nesting CNC machine. This enables fast and efficient marking of your workpieces, fully automatically and without manual intervention.
Right-hand operation for individual space conditions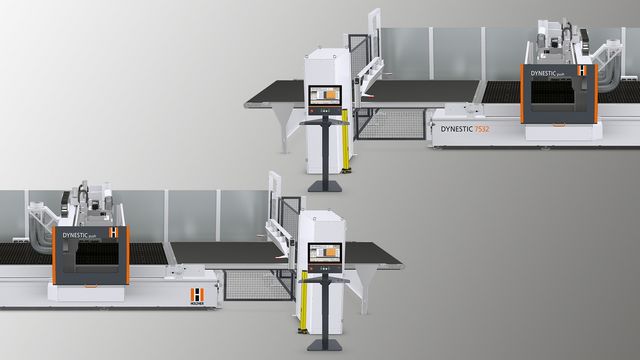 For the perfect adaptation to your individual space conditions, all automated variants of the DYNESTIC 7532 and 7535 models are available, in addition to the classic left-hand operation, as right-hand machines for the production sequence from right to left.
The perfect solution for your material range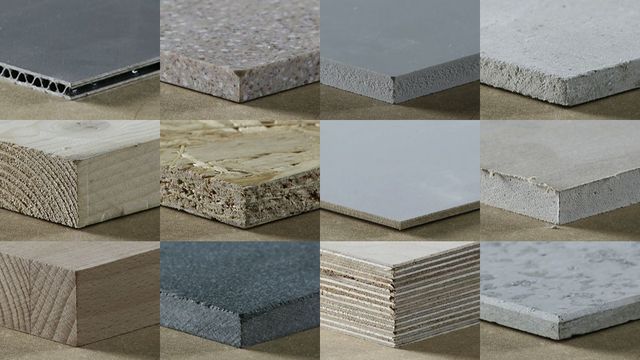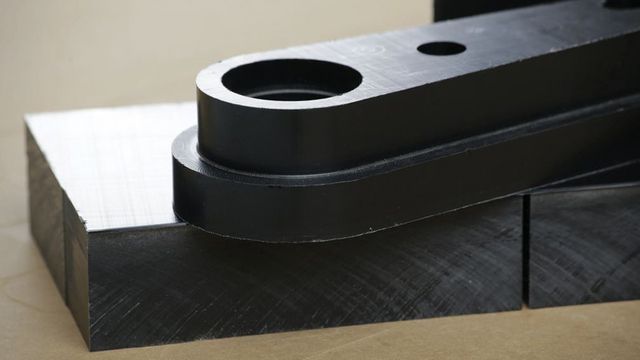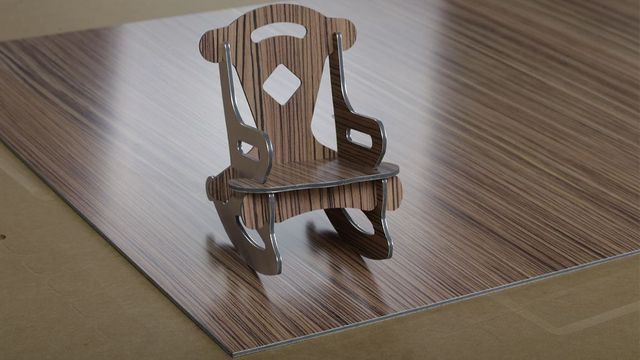 One machine - unlimited possibilities
Due to their flexible options the DYNESTIC models are perfectly designed for the processing of many different materials. The processing of sensitive and heavy materials is enabled because of air buffers. "ColdGun"is suitable for synthetic material, aluminium and composite materials. Due to this "ColdGun" the workpieces and milling tools stay constantly cool. Because of that this option enables extrem long tool lifetimes. Amongst others the following materials can be processed with the DYNESTIC models
Plexiglass
Plastics
Solid surface
Aluminium composite material
Alu Core
Alu Profile
Panels
MDF panels
Solid wood glueboards
Excellent operator ergonomy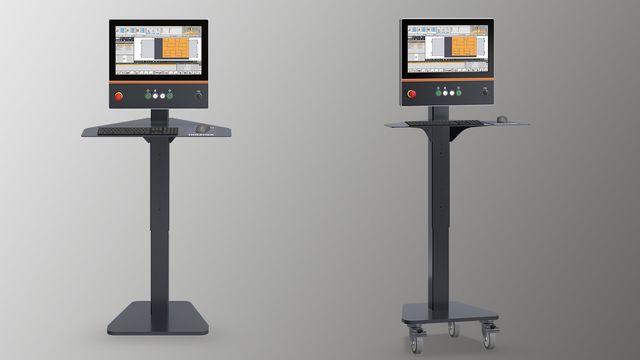 The ergonomic design of your workplace is constantly growing in significance. HOLZ-HER offers a control desk, which was developed specifically for the DYNESTIC series. This control desk is equipped with an 21,5" and 16:9 monitor and ensures perfect operator ergonomics.
Depending on the machine equipment the operator desk can be chosen optionally with a mobile base. The wheels enable to move the desk to the place, where it is most suitable for your working process.
Definitely the full usage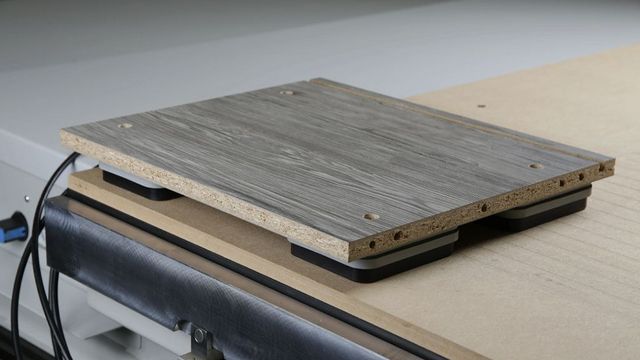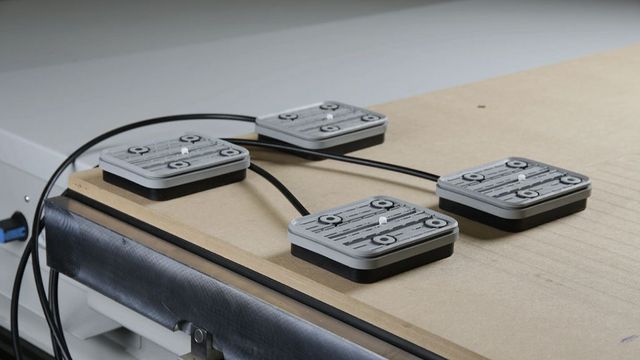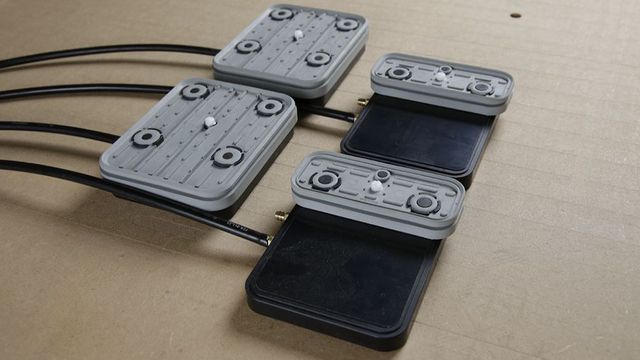 The possibility to strike the workpieces optionally on the front stop bar, makes the DYNESTIC series even more flexible. Formatted workpieces can be created and edited effortlessly. Special vacuums for the grid table allow e.g. horizontal drilling and profile processing on different workpieces.
Efficient vacuum technology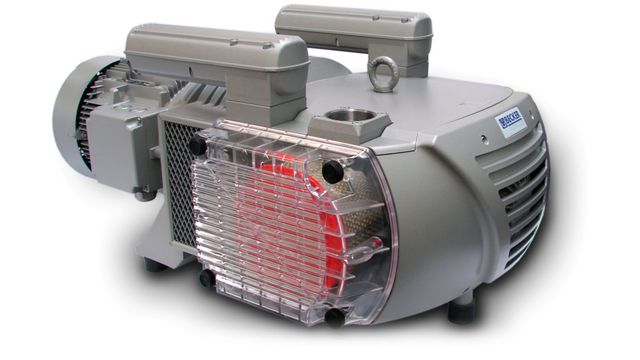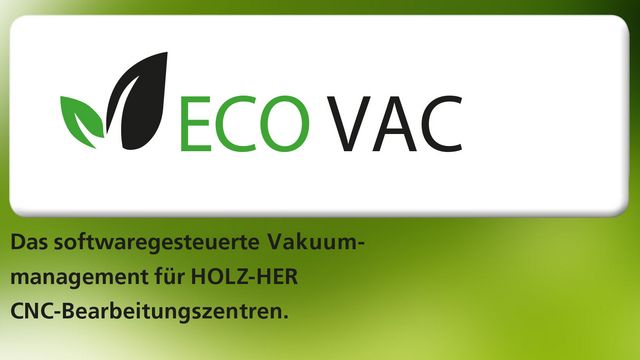 Extremely high performance, efficient vacuum pumps ensure workpiece is held securely. These low maintenance, dry-running pumps are also distinguished by their low noise emissions and extremely low maintenance requirements.
Moreover, our intelligent ECO VAC vacuum control uses a software program to ensure that the required vacuum power is always present when several pumps are used.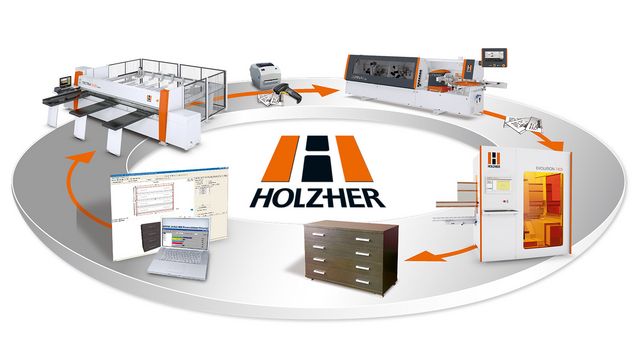 Maximum efficiency with Holz-Her machine networking
HOLZ-HER realizes your production ideas within 20 minutes from the first mouse click to finished furniture with seamless machine networking.
---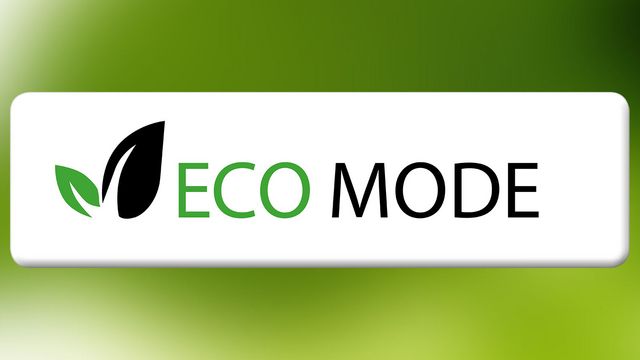 Energy savings made easy
The intelligent ECO Mode energy management for HOLZ-HER CNC machines not only helps preserve our environment - it also saves you money.
---