Beam saw and horizontal panel saw: High-performance panel cutting technology by HOLZ-HER
Beam Saws and panel saws from HOLZ-HER combine precision technology with intelligent handling solutions for effective and precision panel cutting. These pressure beam saws are distinguished by their powerful performance packages. Nevertheless, they are very compact allowing use even in shops where work areas require extremely economic planning. Nevertheless their cutting performance is far beyond standard. The cantilever, torsionally rigid design of the base frame as well as the high quality equipment guarantee constantly precise cutting results at maximum performance volume - a hallmark of HOLZ-HER horizontal panel saws.
The heart of any pressure beam saw is the sawing unit. Designed for high cutting lengths and extremely high feed rates, these machines are available in the performance range up to 25 kW. These are the ideal cutting centers for individual panels and stacks with thicknesses of 50 to 120 mm.
The control is decisive for the power output of a state-of-the-art panel saw. HOLZ-HER's high performance, practice-proven CUTCONTROL 2 takes over control. The preinstalled EASY-PLAN and OPTI-CUT software ensures uncomplicated management of your jobs and materials as well as optimization of your cutting plans on the machine. You can also select additional optional features for perfect work preparation in the office.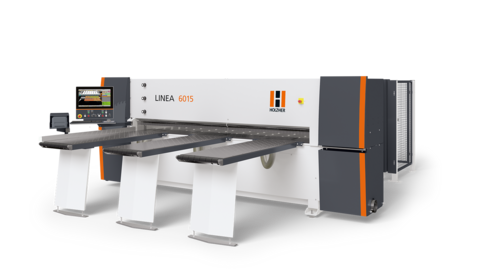 From craftsmen for craftsmen.
Saw Blade Protrusion up to 68 mm
Sawing Unit: up to 11 kW
Prescoring saw: 2.2 kW
Cutting dimensions: 3,100 x 3,100 mm
Detail page LINEA 6015
Beam saw TECTRA 6120 Series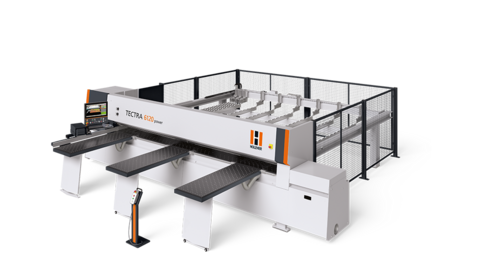 The saw with the high performance spectrum
Professional Software Package
Pneumatically Controlled Angle Presser
Angle Cutting Unit
10 Year Guarantee on All Linear Guides
Detail page TECTRA 6120
ZENTREX 6215 Series Panel Saws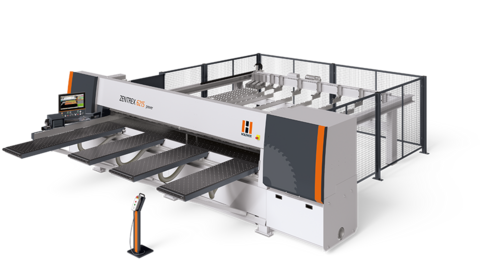 The power package among the HOLZ-HER pressure beam saws
Laser supported positioning system
2-stage evacuation management system
Intelligent Clamps
Double Angle Presser
Professional Software Package
Detail page ZENTREX 6215