LUMINA 1380 multi Edgebander: Integrated, highly efficient multi-function milling technology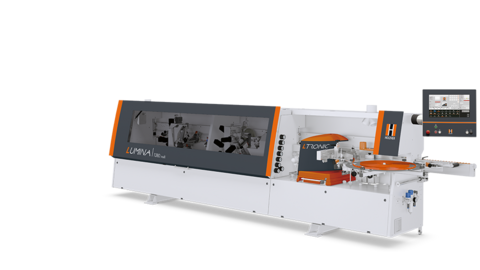 Our new LUMINA 1380 multi offers a unique combination for processing panels: Two systems for perfectly invisible joints. The GluJet glue application system for standard use of PUR glue and the LTRONIC, the new laser edging unit from HOLZ-HER, are unbeatable in terms of speed and cost efficiency. Up to 20 NC servo-axes provide maximum automation and productivity.
The HOLZ-HER LUMINA 1380 multi is equipped with integrated multi-function milling technology with multiple stage tools and revolving tool changers. This allows machining of various radiuses or applications with a 45° bevel at the touch of a button. The LUMINA 1380 multi reduces your setup times enormously and even allows production of small lots at any time.
Prices
x
Different requirements - different prices
The price of a HOLZHER machine is just as individual as your requirements are. Therefore, let us discuss briefly what is most important to you – you will then receive our preliminary, non-binding quote.
Personal advice
x
Personal advice – for higher productivity and greater efficiency
Together with your HOLZHER expert you will find the ideal machine for your requirements. Simply submit the completed form, and your local HOLZHER expert will be happy to discuss all further details with you.
---
Here is what the HOLZ-HER LUMINA series offers
Workpiece Thickness up to 60 mm
Edge Thickness up to 15 mm
Here is what the HOLZ-HER LUMINA 1380 multi offers
Multi-function milling technology
iTronic for intelligent automation
iTronic operating components
1. Adaptive trimming blade
Full adaptive trimming blades with automatic pressure adaptation to match edge thickness and height. Your advantages:
Always the right pressure for different types of edging
Prevents unnecessary vibration
Reduces wear
2. Automatic pressure unit
The contact pressure of the individual pressure rollers is adapted perfectly to the application by an intelligent pneumatic system. Your advantages:
Reduces reject quotas to a minimum
Eliminate sample workpieces
Optimum machining results even for continuously changing applications
3. Automatic glue quantity control
Automatic, requirement-adapted control of glue quantity with program selection: Always optimum glue application for:
Various types of panels, e.g. chipboard or MDF
Various panel thicknesses
Various feed rates
EVA or PUR glue
Adaptation to processing parameters for glue from different manufacturers
4. Automatic cleaning routine
Integrated, fully-automatic purging routine for PUR glue at the touch of a button on the control. This process completely purges the machine, full automatically, with the correct quantity of cleaner, at the right temperature and contact pressure. (Cleaning is required after 48 h = PUR reaction time). Your advantages:
Best system on the market
PUR glue always under control
Avoids errors during cleaning operation
5. Remaining glue quantity indicator
The remaining quantity of glue as well as the running meters that can still be processed are automatically monitored by a special sensor in the system and displayed to the operator on the control. Your advantages:
Operator knows how many running meters can still be produced at all times
Professional supervision of the cleaning process
Optimization of remaining quantity of glue in system at time of cleaning process.
fa.s.t. setting technology
fa.s.t. or "setup in the gap" is one of the major themes for efficient edging operations. fa.s.t. enables you to run different machining processes at the same time on the edgebander. For example, it is possible for the operator to switch on the corner rounding unit intelligently, without having to empty the machine for the set-up procedure.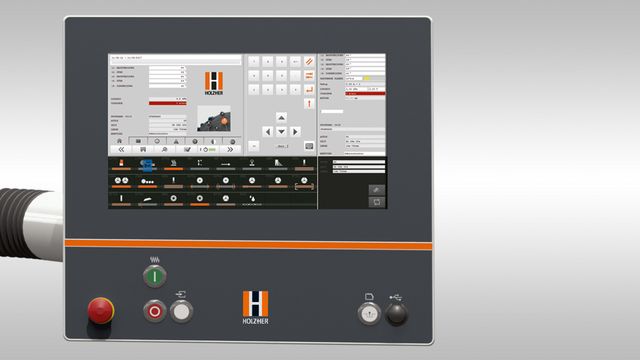 Edge Control
21.5" Touch screen color monitor with 16:9 format. High performance control with simply operation for rational machine set-up and change-over.
21.5" touch screen color monitor - standard feature.
Graphic user interface, all information displayed in plain text and/or graphic form.
Simple operation – rotating and swiveling control panel at eye height.
Programs are simple to call with program names and numbers.
Large program memory for all desired applications.
Individual selection of units with the functions as basic setting possibilities for nominal values, path points and tool corrections.
Service reports in clear text.
Individual management for up to ten users with password protection and individual authorization.
Network connectivity.
Online maintenance, rapid exchange of data with HOLZ-HER service department.
Barcode interface.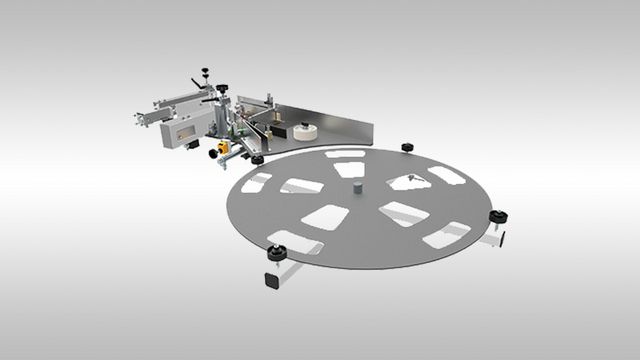 SYNCHRO edging feed
The edging magazine with synchro-drive. With its synchronous adaptation to the feed rate, this edging magazine guarantees short intervals between workpieces and simultaneously optimizes edging protrusions.
Small feed angle thanks to nozzle design - easy feeding of solid wood edging up to 15 mm.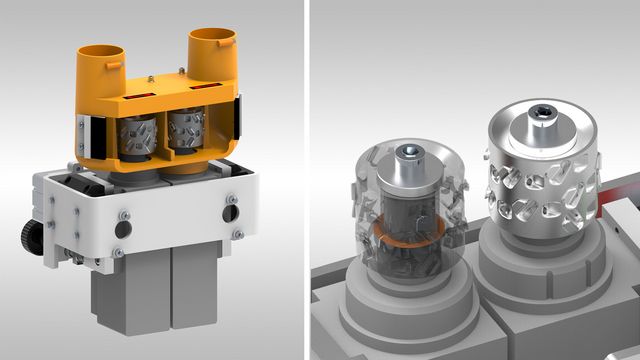 Including height adjustment for optimum utilization of cutters.
LTronic - laser edging change-over unit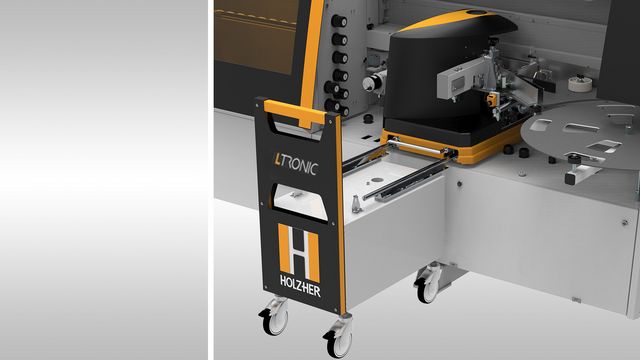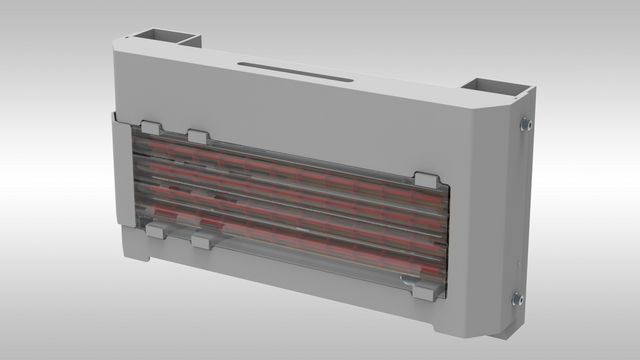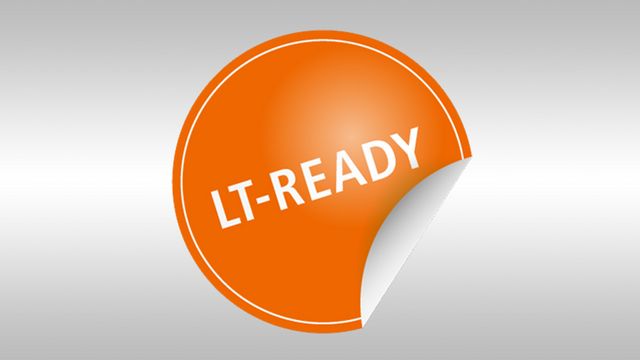 LTronic laser edgebander
The LTronic laser edgebander was developed especially for the LUMINA series and processes all edging with functional layer on the market. Two different NIR modules are available for processing laser edging:
NIR module for edge heights up to 23 mm (standard)
NIR+ module for edge heights up to 45 mm (optional)
(NIR = Near Infrared Radiation)
Switch it on and it's immediately ready for use – the new Ltronic unit does not require a heat-up time or any heat-up phases during the machining process. In addition, the complete system operates absolutely silently which is a clear advantage for the user compared to other systems. Moreover, cleaning costs are minimal. The integrated protective plate on the NIR module needs to be briefly cleaned just once per week.
A highlight is the edging library completely integrated into the control. All of the very latest co-extruded and subsequently coated edging are already stored here as a factory-provided item and can be simply selected by the user via the standard touchscreen. Each laser edging needs a specific energy entry, which, by way of an example, depends on the edge thickness or the color. After the selection is made, Ltronic automatically adjusts the respective energy requirement. HOLZ-HER takes perfect care of all of that with its edging library.
Glu Jet automatic - Change-over gluing station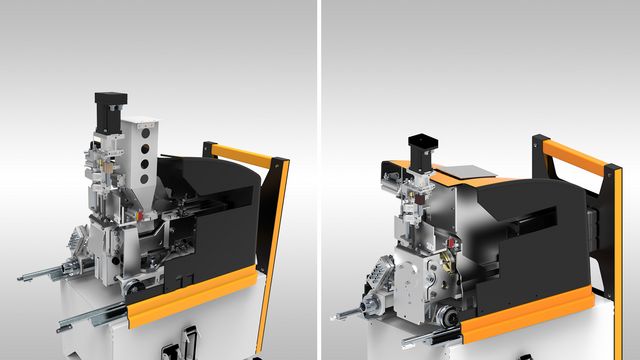 The Glu Jet automatic can be configured as a change-over glue application system mounted on a set-up carriage for rapid change-over to the LTronic . Change-over can be completed in a few sections using a high precision interface with HSK chuck from our CNC technology.
An optional feature is the "big brother", the Glu Jet PUR 2K, which operates with low cost, standard commercially available 2 kg PUR glue cartridges. This unit pays for itself if you use more than approx. 500 kg of PUR glue per year.
Moreover it can also process EVA glue. With a melting capacity of 12 kg per hour, it guarantees continuously optimal glue application without any glue discontinuities even at the full feed rate.
Both gluing stations are ready for use within 3 minutes.
Motor-driven pressure unit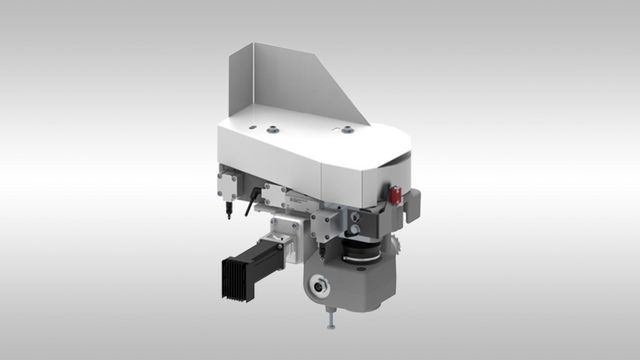 Pressure unit with synchronous drive and automatic adaptation to feed rate. Straight and tapered pressure rollers for perfectly glued joints.
With NC servo-axis for motorized adjustment to specific edge thickness (optional).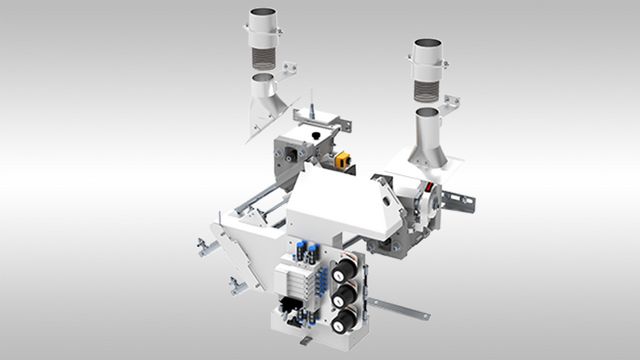 For straight or chamfered trimming on thin edging; a standard feature allows this unit to be pivoted to 10 degrees pneumatically. High quality version with stable cast iron pillars.
Sawing motors each with two guides for precisely trimming off protruding edging.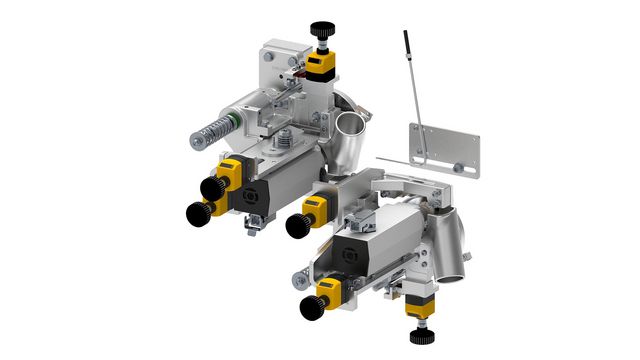 Heavy duty floor-mounted machine with shock-absorbing mounts and large sensing rollers for perfect results even at high feed rates.
100% repetition accuracy at the touch of a button based on zero-clearance mechanisms and six high precision NC servo-axes. Horizontal sensing with angular sensing rollers with chemically applied nickel plating developed especially for processing modern, high gloss edging.
Multi shaping cutter unit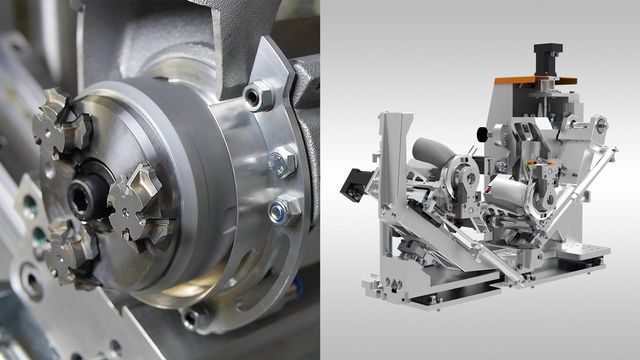 Shaping cutter unit with four NC servo-axes as standard feature
Uncompromising shaping cutter unit for workpieces with thicknesses up to 60 mm.
Unit adjustment on linear guides. With standard blast nozzles in front of sensing rollers to blow away chips in front of sensing areas. Including shelf program for optimum processing of shelves with rounded edges.
Automatic pendulum sensor copies ends without material protrusion and leaves the optimum longitudinal edge protrusion for subsequent machining with the radius scraper.
Also available with quattroForm revolving tools.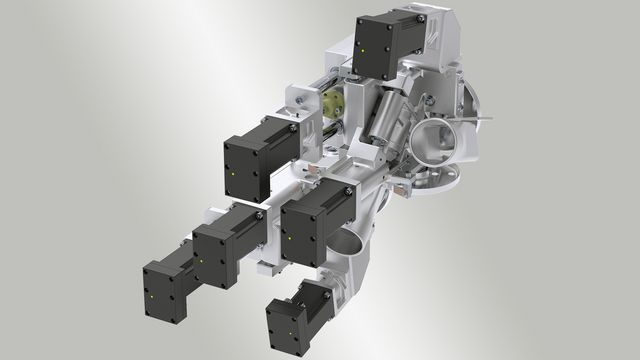 For perfectly smoothing radiuses and chamfers on synthetic edging with two profiles. The unit operates with a play-free mechanical system and high precision, fully digital NC servo-axes, guaranteeing positioning with 100% repetition accuracy. The desired profile of the multi-stage tool can be selected on a wide-band touch screen and the unit moves into position fully automatically.
Flat scrapers application controlled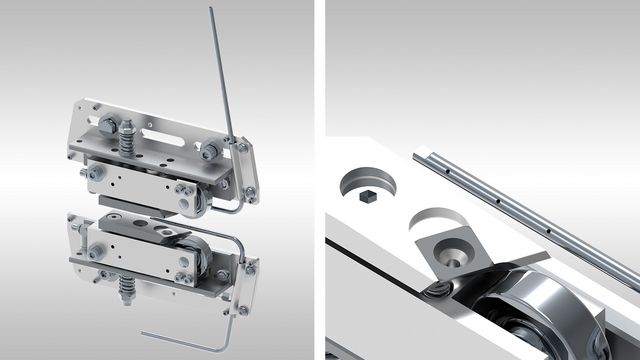 Clean post-processing of surfaces. Application controlled with 2 HW cutting edges, for use on 4 sides. Completely eliminates all manual finishing.
Flat scrapers with pre and post-sensing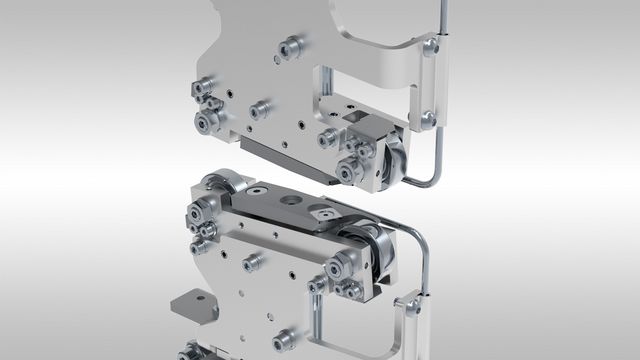 Clean surface finishing with pre- and post-sensing for high feed rates. 2 HW cutting edges, for use on 4 sides.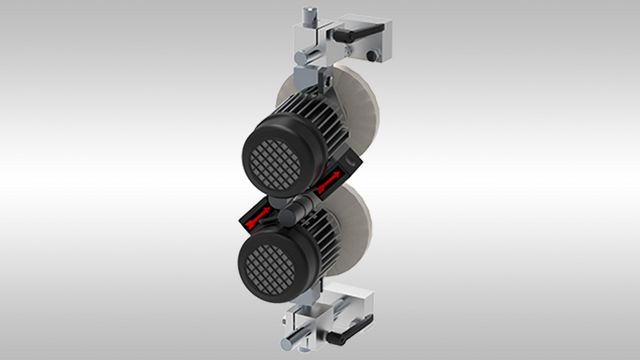 Polishing for maximum gloss; for complete finishing. Standard setup.
Also available as oscillating version (optional)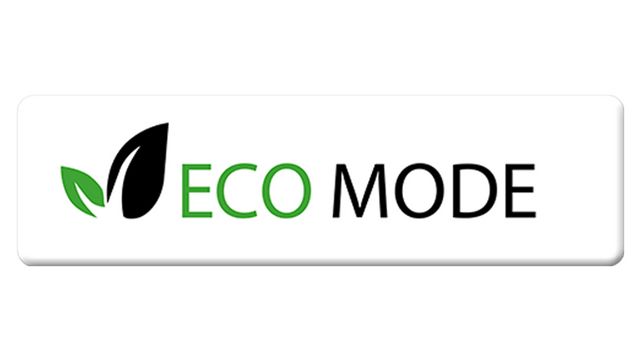 Energy savings made easy
The intelligent ECO Mode energy management for HOLZ-HER edgebanders not only helps preserve our environment - it also saves you money.
---