The Weinig Group at LIGNA 2017: NEXTEC revolutionizes the way joineries work!
06/01/2017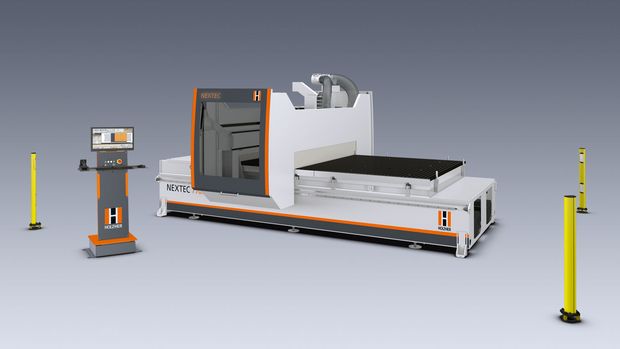 NEXTEC - The machine series for new ways of thinking!
What would happen, if the future had already begun? The answer is NEXTEC! The complete solution for producing furniture without programming. It is really so simple! Just 3 cuts away from finished furniture – with CabinetSelect, the heart of NEXTEC CNC.
Select
Just a click of the mouse is all that is required to select the desired piece of furniture from the extensive CabinetSelect database and drop it into your cart.
Adapt
Create any piece of custom furniture by simply adapting dimensions and quantities. The NEXTEC writes the required nesting programs for formatting, drilling and grooving in the background - all you have to do is position the panel and press the "Start" button.
Ready
Just remove the finished work from the machining table and apply edging as required. And you are ready to assemble the furniture. Just select the right connection technique.
The new NEXTEC CNC series from HOLZ-HER revolutionizes the way joineries work and makes them fit for the challenges of the future. This machine is the unique, complete solution for state-of-the-art furniture presentation, efficient production and profitable sales.
The NEXTEC makes furniture production more efficient and simpler. NEXTEC machining centers have an extremely stable, gantry-type machine design. Precision components for the drive and control technology guarantee maximum dynamics and perfect work. The NEXTEC is also available with automation components for even high production performance.
Free selection of connection technology
Over 300 carcass furniture models ready for production in the 3D CabinetControl database – fully customizable
Everything with one clamping operation. The unique NEXTEC- Clamex package for P-system pockets on the surface and on the edge.
DirectCut for laser-supported, high speed cutting - turns remnants into valuable furniture components.
100 % Value creation in your workshop.
You can produce a complete cabinet wall in less than 30 minutes.
You or your employees select the desired piece of furniture with a mouse click - NEXTEC takes care of everything else.
NEXTEC includes the following features:
CAD Process Module
NEXTEC offers different alternatives for CAD processing. In addition to the starter version, CabinetSelect, a professional version, CabinetControl Pro, is also available.
Advantages of CabinetSelect:
Selection of pre-designed cabinets
Variation in dimensions, quantities, materials and fittings
Compatibility with CabinetControl Pro
Advantages of CabinetControl Pro:
Free configuration of cabinets
Carcass design
Free definition of materials and fittings
WAREHOUSE
With WAREHOUSE from HOLZ-HER in combination with the NEXTEC it is possible to actively control the entire parts inventory to be transferred to production on a NEXTEC. This allows you, for example, to use predefined interfaces, such as CabinetSelect or CabinetControl, to import and then manage parts. WAREHOUSE from HOLZ-HER is an important module for state-of-the-art furniture production according to WEINIG W4.0.
"Production" Process Module
The next automatic part generation step provides the prerequisites for production. CNC programs are created fully automatically in the background, integrated into the parts list and nested by BetterNest in optimized cutting plans.
DIRECT-CUT
With DIRECT-CUT as part of the NEXTEC system developed by HOLZ-HER, it is possible to operate the NEXTEC as well as a formatting saw, however with the convenience of a HOLZ-HER CNC machining center.
One click production – The way to an intelligent workshop with HOLZ-HER. Intelligent workshops have to give small craft shops as well as industrial production a maximum of flexibility for the future. Small lot sizes, changing trends and new types of material require maximum adaptability in production. That is why communication and flow of information are the most important, core competencies for economic success:
From human to human
From human to machine / back from machine to human (smart software)
From machine to machine (flexible interlinkage)
Intuitive software and easily identifiable icons as well as programmed user aids provide support. And open the door for digitization, even for smaller shops.
The new industry for ACCURA / LUMINA:
The new ACCURA and LUMINA Industry machines are equipped with the new Glu Jet PUR 2K for use with 2 kg PUR glue sticks on the newly-developed changing station. High-quality furniture production starts with selection of the right machine. "ACCURAte", professional edgebanding with no compromises, that is the benchmark of this new series. As an ACCURA Industry version, in addition to fully automatic operation, the machine also offers the Glu Jet PUR 2K glue station as standard, which enables the processing of large 2 kg glue sticks that are available commercially from all leading glue manufacturers. The new gluing station is designed as a change-over station with technology from the LUMINA series with HSK adapters. This allows the station to be removed easily using a change-over carriage, making it even easier to clean the glue application nozzle. Moreover other Glu Jet stations can be changed over on the same machine or even combined with LTRONIC on the LUMINA Industry version for activation of laser edging. With the Glu Jet PUR 2K, users can process 2 kg PUR glue cartridges, which are significantly more economical than conventional PUR granules. The investment is worthwhile for customers who exclusively process PUR glues. With average usage in this area, the saving in terms of glue purchasing is at least 50 percent.
Tech. highlights

Integrated, fully-automatic purging routine
Motor-driven nozzle height adjustment
Residual glue monitoring. You can see at all times on the control unit how many meters of edges can still be processed with the current filling.
The station can be precisely cleaned at the touch of a button with the right purging volume as well as correct temperature and purging timing.
Glu Jet advantages
Invisible joint look using new thin film technology
In addition, Glu Jet's low maintenance requirements and energy efficiency reduce costs
The sealed system prevents unpleasant odors due to escaping glue vapors
The new vertical SECTOR 1255 and 1260:
he new upright panel saws from the SECTOR series combine proven technology from over 50 years of experience with a basic, solid design offering you a unique price-performance ratio. The completely welded frame with extremely high rigidity is your guarantee for precise cutting quality. A finished cut that is ready for immediate edgebanding goes without saying for HOLZ-HER. With their extreme capacity, the powerful sawing motors ensure perfect cutting results and are at the same time easy to adjust, guaranteeing ergonomic operation. On the SECTOR 1260 automatic, you have the option of choosing between manual and automatic operation.
The automatic mode allows automatic plunge cutting, through cutting and retraction, along with return to the starting point, making it significantly easier to cut panels and ensuring higher cutting power. The professional OptiBase V-Cut cutting optimization is available for all SECTOR models. This enables you to optimize your cutting and labeling in a professional way. You can choose to carry out the optimization on the machine or also in the office with a network connection.
The new DYNESTIC family:
From classic nesting processing right up to dynamic 5-axis machining, everything is included. With the new DYNESTIC series gantry CNC machines, HOLZ-HER is moving the frontiers of nesting technology to completely new dimensions. Solid machine construction and technology at the highest level ensure high production capacity and precisely produced workpieces. Starting with the "classic" version of the DYNESTIC 7532 single machine. Other DYNESTIC models can be easily adapted to fit in various automated environments. The "push" version pushes the finished nest onto the conveyor belt and cleans the machine table for the next machining process. The "automatic" version is ideal for high performance - even for lot sizes of 1 - in combination with the automatic HOLZ-HER STORE-MASTER 5110 panel handling system and the DYNESTIC 7532 lift and standard elevating table enable highly efficient machining of complete stacks of panels.
The new DYNESTIC 7535 with 5-axis milling spindle and a 2200 mm deep grid table is the new flag ship in the new series of nesting machines from HOLZ-HER. Even with this huge working depth, the moving stands in solid gantry design ensure utmost precision and optimum cutting results via two synchro drives. Whether as a DYNESTIC 7535 classic, push, automatic or lift – this 5-axis CNC machine sets standards!
The DYNESTIC 7535 is equipped with the completely newly developed CAMPUS software package version 7. The features and nesting results from the optional BetterNest software are absolutely convincing. The high-flow nesting table ensures optimum vacuum flow and can also be supplied with an intelligent 16-field grid table and software-controlled vacuum control. Double-acting suction pads enable the clamping of doors, staircase components, etc., making this 5-axis CNC machine a real all-rounder with virtually unlimited machining capabilities. As with the PRO-MASTER series, machining lengths of over 6 meters are also possible with the new DYNESTIC 7532, depending on the type of machine. All HOLZ-HER 5-axis machining centers are supplied with a liquid cooled 5-axis precision milling spindle with output of 10 kW and speed range of 1,000 - 24,000 rpm as a standard feature. The high-performance 12 kW cutting spindle or the 17 kW PRO-TORQUE spindle with controlled axis locking is available as an option. Flexibility on 5 axes – Their generous machining dimensions and comprehensive range of special suction cups make these machining centers perfect for configuration of a wide variety of applications in furniture and model construction as well as use with various composite materials.