The PUR zero joint edition models - Streamer 1057, Auriga 1308XL and Sprint 1329
03/19/2016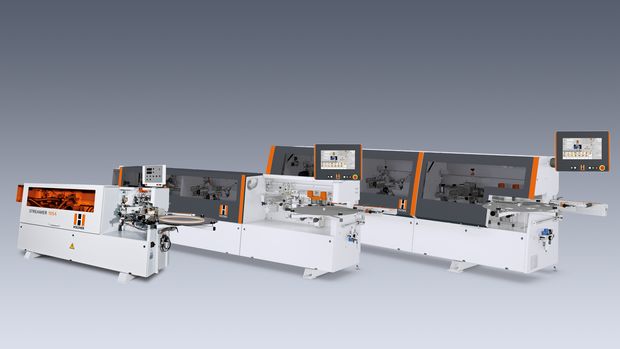 An often under-estimated argument is simple and reliable processing of PUR adhesive with the Glu Jet glue application system. Only Glu Jet offers you the combination of a high-strength, watertight connection with a zero joint finish.
On the one hand, the highly viscous PUR adhesive is forced into the panel pores under high pressure, creating a strong hold between the edge and the carrier material. On the other hand, the scraper in the nozzle comb ensures that the adhesive can be distributed from the "mountain" into the "valleys" during pressing at the pressure unit, thus creating a razor-thin joint scarcely distinguishable from the joint quality when laser edging - and everything is also watertight!
The benefits of the PUR adhesive are immense, offering you the best visuals with all edge materials. PUR adhesive binds chemically and, after hardening, can no longer be re-activated like EVA adhesive, for example. This explains the watertightness of PUR. You simply cannot get a stronger connection between panel and edge with other types of adhesive.
Cleaning the gluing station is child's play. The flush button releases a special PUR neutralizer that you can obtain from all major adhesive manufacturers.
Overview of all benefits:
Top quality
Zero joint with
PUR adhesive
High-strength
adhesive connection
Watertight quality
High heat resistance
Simple cleaning
For further details, visit holzher.de