HOLZ-HER NEXTEC – equipped for every challenge
Your choice: NEXTEC Models
NEXTEC 7705 classic
The NEXTEC 7705 classic is the perfect solution for efficient carcass furniture production in small and middle-size carpentry shops:
Machining dimensions 3,100/3,700 mm (X) and 1,580 mm (Y)
Drilling head with 14 or 24 spindles
Including software package and training
Optional discharge pusher with integrated evacuation and discharge table (push version)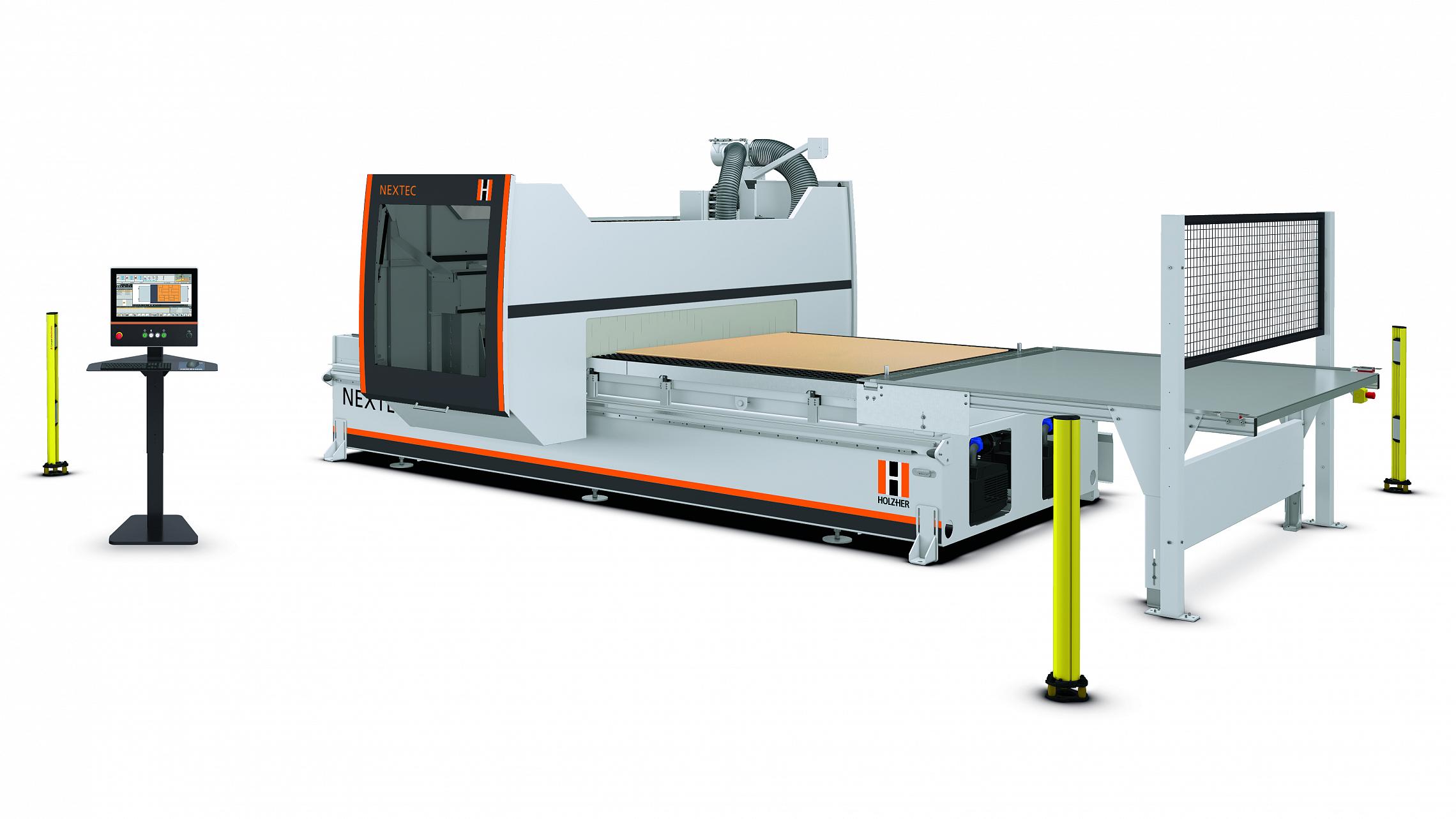 NEXTEC 7707 push
For carpentry shops already operating with a higher degree of automation, the NEXTEC 7707 push offers an additional, convenient discharge table with conveyor belt:
Machining dimensions 3,100/4,600 mm (X) and 2,200 mm (Y)
Automatic discharge pusher with integrated vacuum
Stationary discharge table; also available with optional conveyor belt
Also available as classic version without automation components
Highlights of HOLZ-HER NEXTEC
The HOLZ-HER NEXTEC machining centers offer a complete solution for furniture production of the future thanks to their exceptional software package and numerous technical highlights. Here is an overview of all important features at a glance:
Our CabinetSelect Software is the heart of our NEXTEC CNC. From a database of over 300 furniture templates, you can select your desired piece of furniture and adapt it to your custom dimensions as well as select the quantity and material and the connection hardware.

Simply move the piece of furniture required to your shopping cart and complete your customer order, such as, a complete kitchenette.

Naturally you can expand your database to include your own designs at any time with the CabinetControl base module also included as a standard feature. With the NEXTEC you can make your custom furniture just as individualistic as your customers!
High speed, laser-supported cutting turns remnants into valuable workpieces. The teach-in feature integrated into the DirectCut software makes proper positioning of even free-form parts and grained workpieces easy as pie. Simply move the guide laser along the edge of the panel. Teach in the position using the hand-held unit and start the CNC program.
Do you need to cut through a workpiece quickly? The DirectCut software offers a single cut feature to save you having to run over to the format saw. The laser shows exactly where the cut will be.
Free selection of connection technology
The NEXTEC series offers well-thought-through solutions for all common furniture connection fittings. Whether classic connectors for nesting technology or the new Cabineo connectors – the software knows the processing steps required and positions them in the right location.
The NEXTEC offers two optional packages for conventional dowel connections with horizontal holes: You can choose a second operation for parts using specially developed suction cups to drill holes for dowels and Minifix connectors. Naturally you can also machine horizontal pockets, grooved connections and perform other types of milling work.
"BetterNest" - the optimum nesting software
Innovative operator software for optimized cutting and processing
The increasing popularity of nesting technology as a combined cutting and CNC processing solution for large quantities of panels has also increased the requirements placed on the nesting software. For this reason, HOLZ-HER offers the "BetterNest" software as an auxiliary module for the CAMPUS / NC Hops software for the functional nesting machining centers in the NEXTEC series.
This module is available for pure rectangular nesting or as a free-form version with a completely new type of algorithm offering never-before-achievable nesting results with cutting losses far below that obtained with conventional nesting software. In combination with its simple operation in spite of its enormous versatility, it significantly facilitates programming for users in the office and on the machine while ensuring maximum process reliability.
Highly flexible nesting table
High-Flow Nesting Table
Nesting technology for rational production. With the nesting process, a porous protective panel – usually a thin MDF panel – is held down on the machine table by a vacuum. It provides a large surface for suction and serves to support the workpieces to be processed. Nesting technology allows optimized processing and cutting of panel materials.


For formatting nesting cutting plans on the nesting table.
Workpieces can be processed with manually positioned suction cups.
The HOLZ-HER nesting table has small matrix dimensions – of only 50 mm – to ensure maximum vacuum flux over the entire table surface.
Drilling head with upgrade possibility
Convincing machining results
Even the standard versions of the NEXTEC 7705 and 7707 are provided with a fully equipped drilling head with 14 spindles and grooving saw. The perfect solution for even higher drilling performance is the XL drilling head with up to 24 drilling spindles and grooving saw in the X direction .
LED-illuminated "NEXTEC" machine logo. The LED machine logo changes colors to indicate the operating mode of the nesting machine at a glance.


Green logo: Machine ready for operation
Orange logo: Machine in operation
Red logo: Machine not ready for operation
TouchTool length measurement
TouchTool is the ideal system for tool length measurement, correcting the corresponding values in the tool database. Moreover the Touchtool allows early recognition of tool breakage.
TouchProbe workpiece measurement
The precision TouchProbe tool measuring device with its ceramic ball probe measures workpiece length, workpiece depth and material thickness and transfers the data to the control for the CNC machine. This ensures automatic correction of dimension deviations in the program.
TouchLabel - overview of labels
TouchLabel - the perfect solution for labeling
The 21.5" touch screen provides a perfect overview of the nesting results. Simply tap the workpiece and the label printer included in the package prints out a self-adhesive barcode label.
The integrated CAMPUS module label printer allows printout of normal text as well as barcodes (barcode and 2D data matrix). Naturally, your barcode labels can be adapted to your specific requirements with the label template editor.
The perfect solution for your entire range of materials
One machine - unlimited possibilities
The NEXTEC models with their flexible options are perfectly laid out for processing highly differing materials. Air cushions make it possible to process sensitive and heavy materials. "ColdGun" is particularly suitable for plastics, aluminum and composite materials. "ColdGun" always keeps your tools and the cutter cool. That is why this option also ensures extremely long tool life. The NEXTEC models allow machining of the following materials, among others:


Plexiglas
Plastics
Acrylic stone
Aluminum composite materials
Aluminum core
Aluminum channels
Derived timber products
MDF panels
Solid laminated panels
Excellent human engineering for ease of operation
Ergonomic design of your workplace is of increasingly greater importance. HOLZ-HER offers a control panel developed for the NEXTEC series equipped with a 21.5", 16:9 monitor offering perfect user convenience.

Depending on the machine equipment, you can select the control panel with mobile stand as an option. The attached rollers allow the control panel to be positioned for optimum support of the working process.
Full utilization for safety and reliability
The possibility of aligning workpieces on the front stop bar as well, makes the NEXTEC series even more flexible. Formatted workpieces can be easily and precisely positioned and processed. Special suction cups for the grid table allow horizontal drilling and profile processing on highly varying types of work.
The vacuum pumps on the NEXTEC 7705 and NEXTEC 7707 are integrated into the machine frame for maximum space savings. Extremely high performance, efficient vacuum pumps ensure workpiece is held securely. These low maintenance, dry running type vacuum pumps are also distinguished by their low noise emissions and extremely low maintenance requirements.

The intelligent ECO VAC vacuum control also provides a software base for controlling the required vacuum capacity, when several pumps are used.
All figures, all data, all facts - at the touch of a button
NEXTEC 7705|7707 brochure
Everything you need to know about the HOLZ-HER NEXTEC 7705|7707 is available in compact for in our furniture brochure (PDF/2,3 MB)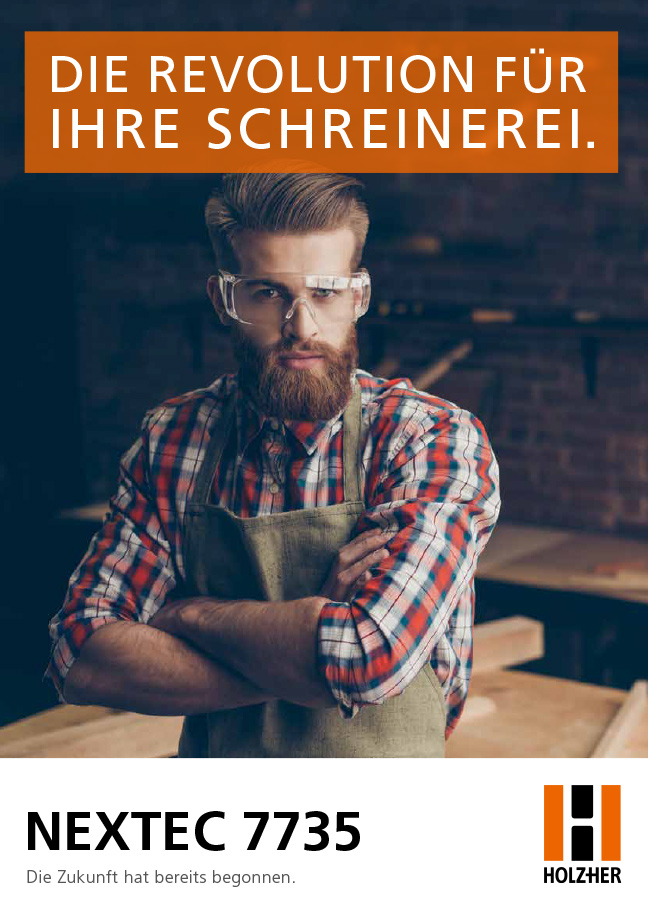 NEXTEC 7735 brochure
All technical information regarding the 5 axis CNC solution NEXTEC 7735 is available in our compact brochure.(PDF/0,5MB)